Rivals national recruiting director Adam Gorney and national recruiting analyst Ryan Wright along with Andrew Bone of BamaInsider.com and Kyle Kelly of InsideNDSports.com tackle three topics and determine whether they believe each statement is FACT or FICTION.
1. There is a very real possibility that Arch Manning could commit to Alabama even with Eli Holstein in the class.
Gorney's take: FICTION. Anything could happen and I guess Arch Manning could join the class and put Eli Holstein to the test of whether to stay and battle for the starting job or find another home but I don't think the chances are good. I don't think Alabama thinks the chances are all that good, either, and that's why the Crimson Tide took Holstein's commitment instead of waiting to see what Manning did before taking a QB in this class. This has looked like a Texas/Georgia battle for some time and it was probably trending that way even before Holstein committed. Alabama is the King Kong of college football, though, so Manning could fall head over heels and then things could get really interesting but to call it a very real possibility is too far.
Bone's take: FACT. I don't necessarily expect it to happen, but it 'could.' Manning wouldn't take the visit to Alabama this weekend if there was zero interest. Alabama is hoping it can sell Manning on joining the class with Holstein but it's clearly an uphill challenge. The competition race is wide open after Bryce Young departs for the NFL. There isn't a guaranteed starter. Each school on Manning's list of favorites has young, highly ranked quarterbacks itching to start for their respected universities. Only one player can start at the position. I don't predict Manning to Alabama (at least not right now). He is visiting so that still indicates interest and something that remains a possibility for the the Crimson Tide (even if it's a long shot).
SHARE YOUR THOUGHTS WITH ALABAMA FANS AT BAMAINSIDER.COM
*****
2. Notre Dame is in worse shape with Dante Moore after taking CJ Carr's commitment.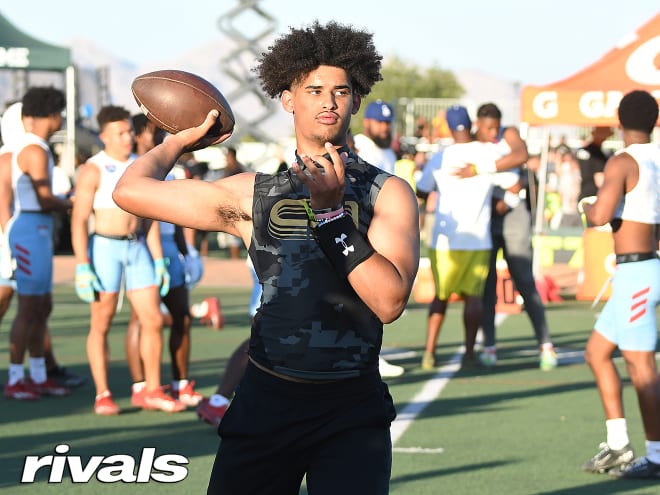 Gorney's take: FACT. I'll have a better understanding of Dante Moore's situation after talking to him at the Overtime event this weekend in Las Vegas but I don't see how this helps. I don't think Moore is afraid of any competition nor should he be especially since he will have a jumpstart on CJ Carr by a whole recruiting class – unless Carr reclassifies and then it becomes a real issue. If that happens, Moore will look elsewhere and with LSU showing tons of interest, a visit coming to Texas A&M and now Michigan suddenly re-emerging as a serious contender, I don't see how how this doesn't make things tougher for Notre Dame.
Kelly's take: FICTION. Although Notre Dame landed one of the 2024 class's prolific passers in CJ Carr, I am not ready to say it has a major impact on Moore's recruitment. Carr and Moore play their high school ball less than 50 miles away from each other and also play on the same 7-on-7 team. As a result, they have a pre-existing relationship, which might work in ND's favor. Most marquee programs will have a high-profile quarterback before or after Moore and Notre Dame is no different than those teams. I am not saying Notre Dame is in better shape for Moore following Carr's commitment, but I am not ready to say at this time they're in worse shape either.
SHARE YOUR THOUGHTS WITH NOTRE DAME FANS AT INSIDENDSPORTS.COM
*****
3. If there's another five-star in the state of Florida, it would be another receiver.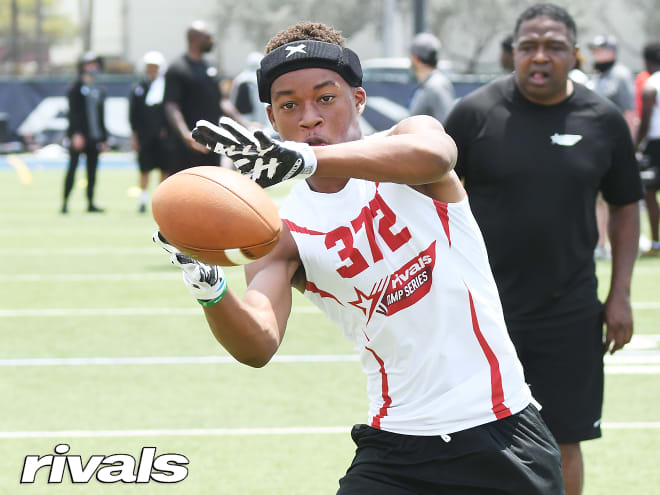 Gorney's take: FACT. There are already three wide receivers in the state of Florida who are five-stars in Carnell Tate, Brandon Inniss and Hykeem Williams but Jalen Brown is making a case for a fourth. Francis Mauigoa and Malik Bryant will be in the running but the Miami Gulliver Prep standout has been impressive at the Overtime event in Las Vegas and while physical size is a concern, his burst and playmaking ability has been really impressive. If another state of Florida prospect has a chance, it could be him.
Wright's take: FICTION. There are two Florida talents on the cusp of five-star fame in linebacker Malik Bryant and offensive tackle Francis Mauigoa. Bryant has stepped out of the crowded spotlight at IMG Academy returning to Orlando Jones. Teams may run away from Bryant this fall, but he will also have a better opportunity to fill the stat sheet and shine on his own during his senior year. Back at IMG, Mauigoa remains and will be the anchor for the Ascenders' offensive line. Mauigoa has the size, strength, and all the intangibles of a five-star. If he tightens up some technique and dominates throughout IMG's tough fall schedule, I'd expect to see five-star next to his name.