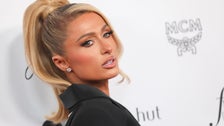 Hotel heir and activist Paris Hilton shared the alleged sexual abuse and threats she suffered over 20 years ago during her stay at Provo Canyon School, a youth psychiatric residential treatment center in the city of Provo.
Her experiences began after she was taken away from home at 16 and sent away after her parents believed her attention deficit disorder would only be alleviated with "hard love".
"On my first day, I was forced to take off all my clothes, squat and cough and undergo a gynecological exam, all closely followed by the male staff," Hilton explained in the editorial.
"While it was an extremely unpleasant experience, I was led to believe it was a legitimate routine check for contraband," she wrote. "But what I couldn't understand as a 16-year-old girl was why that internal exam was often done to me during my time in Provo and only in the middle of the night."
The reality TV star said many of these tests would occur while she was "sleep-deprived and heavily medicated." When she rebelled at the exams, residential staff threatened to observe her, which she was known in the school as "isolation."
Hilton said looking back on these horrible adult female experiences, "I can recognize these tests for what they were: sexual assault on children."
HuffPost contacted the school for a response to Hilton's allegations of abuse.
The harrowing details of Hilton's abuse have become the catalyst for her lobbying efforts for new legislation surrounding the unfair treatment of children in residential youth treatment centers in the United States.
Hilton attended a press conference on Capitol Hill on Wednesday to show solidarity with Unsilenced, a national non-profit organization focused on fighting institutional child abuse, and supporting other survivors of abuse.
"For decades, children in institutional settings have been denied basic human rights protection against widespread abuse, neglect and preventable death," Hilton said in a statement. Press release before the conference.
"Survivors are ready to tell Congress it's time for leadership, action, and time to FINALLY protect children in the struggling teen industry."
A day before publishing his editorial, Hilton visited Senator Chuck Grassley (R-Iowa) on a trip to the Capitol and the White House to discuss ways to end child abuse in these facilities.
The Republican lawmaker posted a photo of himself and Hilton Twitter.
"Met w[ith] Paris Hilton to discuss how to stop child abuse in residential care facilities, "Grassley tweeted Tuesday.
In February 2021, Hilton tested at a state Senate committee hearing at the Utah Capitol on a bill that would require the government to oversee the operation at these centers and document when restrictions are used.
"Talking about something so personal was and still is terrifying," Hilton later told the committee. "But I can't go to sleep at night knowing that there are children who are suffering the same abuse that I and so many others have suffered, and neither should you."
During his testimony, he also called on President Joe Biden and others in Congress to continue federal legislation.
In 2020, Hilton released a documentary called "This Is Paris" which chronicles her life, including her time in Provo. He told USA Today who intends to publish a memoir about his traumatic experiences within the following year.