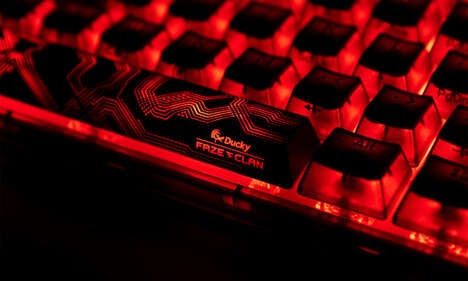 American esports and games company FaZe Clan partnered with mechanical keyboard company Ducky to release a FaZe-branded keyboard in May 2022.
This marks the first time that FaZe Clan has branded their name on a keyboard. The collaboration includes a customized version of the "Ducky One 3 Mini" mechanical keyboard. The keyboard will be available for a limited time at "FaZe Armory", a pop-up store in Los Angeles.
Esports brands often partner with peripheral manufacturers, but it's important to note that such partnerships are often aimed at the gaming audience rather than aspiring professional gamers. Similar to sneakers or limited edition apparel, these collaborations are seen as collectibles.
"[M]making this such an authentic way to continue building our consumer products business with Ducky's gaming products and high-tech electronics. Derek Chestnut, vice president of consumer products at FaZe Clan, says.
Image credit: FaZe Clan, Ducky