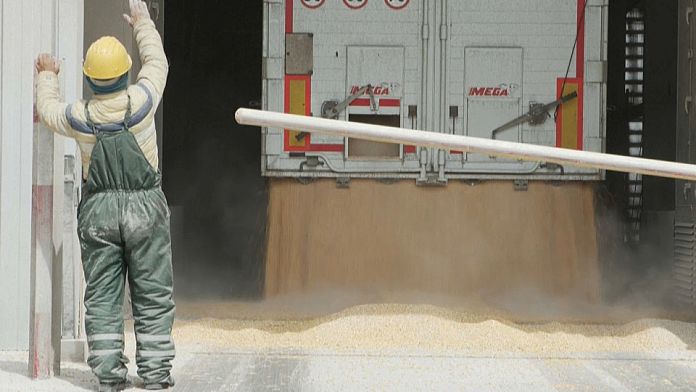 Europe's granary is in danger.
Ukraine is one of the world's largest producers of sunflower, wheat, rapeseed and corn oil.
However, Ukrainian ships carrying grain cannot set sail. With their ports blocked by the conflict, exporters now look to Constanta in Romania as an alternative.
Trains, trucks and barges are used to transport goods to the strategic port city from small Danube ports such as Reni and Izmail in southwestern Ukraine.
the Food and Agriculture Organization of the United Nations says nearly 25 million tons of wheat are currently stuck in the country. FAO says Moscow troops are also looting storage facilities and transporting grain to Russia
Bulgaria says it is willing to help export Ukrainian stocks from its port of Varna and is currently upgrading its infrastructure.
Meanwhile, Constanta is moving the cargo as fast as possible.
The Lady Dimine is the second ship to dock at Pier 80, once loaded, bound for Portugal.
The first ship, loaded with 70,000 tons of Ukrainian maize, left Constanta in early April and a third is expected in the next few days.
"There is a general feeling of compassion for the unfortunate situation in Ukraine, they are our neighbors. We all feel the need to help them as much as possible," says Viorel Panait, the manager of the Comvex transport company.
"Against the background of the situation mentioned, we recorded this year, in the first few months, an increase in both the activity of minerals and that of cereals. It should also be noted that large quantities of minerals, which should have been largely destined to 'steel industry in Europe cannot reach Europe, which creates production difficulties, "he says.
It was in Ukraine "a challenge and an opportunity"
Port manager Florin Goidea says the war in Ukraine is a challenge but also an opportunity.
"Even though it's been a few months, the situation is still just beginning. Slowly, corridors are being created to bring goods to the port of Constanta and help with exports, now it is very important to help Ukraine's exports to support its economics, "he says.
"Both river and sea trade pass through here. We also use this route, the Danube-Black Sea canal and the Danube. Water transport is very cheap compared to rail and trucks. It is very economical because it moves large quantities of goods."
Meanwhile, farmers in Ukraine are feeling the pressure, it is planting season and this year farmers need more fuel and fertilizer to replenish their supplies.
But they also face further challenges: the planters found themselves at the forefront of a Russian invasion that contaminated areas of the country with mines, bullets and unexploded rockets.
They run the unique risk of detonating one of the devices as they work the soil, another worrying news for next year's crop.
Demining teams were inundated with requests to destroy non-exploded warheads.
Police said the latest injury occurred in the Kiev area, where a farmer from the village of Gogoliv struck a mine on his tractor while he was in the fields on Wednesday.
Maria Kolesnyk, with analyst firm ProAgro Group, told AFP that about 20 incidents of farmers hit by accidental explosions of war bombs have been recorded, but it is unclear how many cases were fatal.
"In the farming community today, the most sought-after profession is the engineers," he said. "We desperately need the help of the international community because Ukrainian professionals work 24/7."