NEW ONENow you can listen to the articles from Fox News!
Toronto maple leaves Striker Kyle Clifford was banned for one game for a boarding accident in Toronto's opening playoff win against the Tampa Bay Lightning.
The NHL player safety department issued the suspension on Tuesday following an audition with Clifford. He described Monday's incident as a violent blow to a helpless player who is no longer in possession of the puck.
Clifford was assessed a severe boarding penalty and 6:59 game misconduct in Game 1 of the first round series for a hit on Ross Colton.
CLICK HERE FOR MORE SPORTS COVERAGE ON FOXNEWS.COM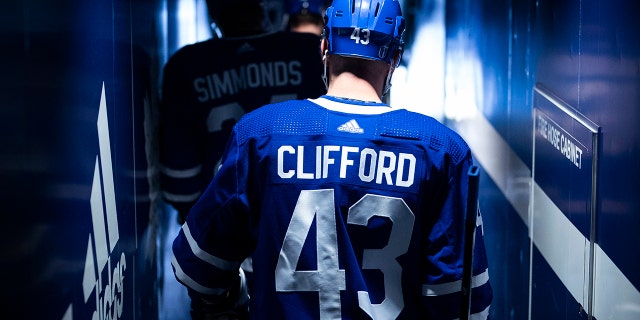 The Tampa striker went face down in the glass but escaped a serious injury.
Toronto manager Sheldon Keefe said Tuesday before the ban was announced that Clifford's penalty put the Leafs in a difficult position.
"He has been around the game for a long time and has played like that for a long time," the manager said. "He paid him at that moment. We paid him as a team."
The Leafs won Game 1 5-0 over two-time reigning Stanley Cup champions. Clifford will miss Game 2 on Wednesday.
The NHL also announced that Toronto striker Wayne Simmonds and Tampa Bay strikers Corey Perry and Patrick Maroon have been fined $ 2,250 each for unsportsmanlike conduct during the match.
The three players were instigators of a fight in the third period.